Ad blocker interference detected!
Wikia is a free-to-use site that makes money from advertising. We have a modified experience for viewers using ad blockers

Wikia is not accessible if you've made further modifications. Remove the custom ad blocker rule(s) and the page will load as expected.
Gorące Wrota
(
ang. Hot Gates
) - są bramą do
Otchłani
, do której
Cień
chciał zepchnąć Tlena aby Go zgładzić. Jest to także nazwa kompleksu wąwozów, w którym znajdują się Wrota. Zostały on stworzone prawdopodobnie w tym samym czasie gdy pojawił sie
Cień
. Legenda mówi, że Tlen przewidziawszy nadchodzące wydarzenia postanowił nakazać wzniesienie Wrót w celu zamknięcia
Otchłani
.
Historia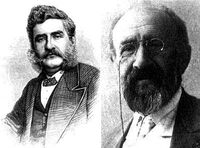 Znani badacze Lewy Morgan i John Davidson Bezel odkryli w okolicach miasta Tabalus nieopodal, którego odbyła sie wielka
bitwa pod Asmadronem
, pozostałości po dawnej kulturze. Pomogły im one w znalezieniu
Zaginionej Komnaty
, w której może znajdować się wejście do kompleksu Gorących Wrót. Dostanie się do niej jest niezwykle trudne i niebezpieczne. Badacze odkryli również skrawki pergaminów na podstawie, których odczytali, że miejsce to jest chronione przez nieznane bliżej istoty. Miało to bezpośredni związek z niewyjaśnionymi zjawiskami dziejącymi się nocą w pobliżu
Komnaty
. Wpłynęło to na przerwanie badań w okolicach Tabalus.