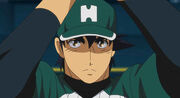 Goro Shigeno born as Goro Honda is the primary protagonist of the Major series.
Counterparts
Percy (Thomas the Tank Engine and Friends)
Sunshine (TUGS)
Mario (Super Mario Bros.)
Sonic (Sonic the Hedgehog)
Kirby (Kirby)
Orson Pig (Garfield and Friends)
Gumball Watterson (The Amazing World of Gumball)
SpongeBob SquarePants (SpongeBob SquarePants)
Phineas Flynn (Phineas and Ferb)
Homer Simpson or Bart Simpson (The Simpsons)
Peter Griffin or Chris Griffin (Family Guy)
Arthur Read (Arthur)
Mordecai (Regular Show)
Fix-It Felix Jr. (Wreck-It Ralph)
Tommy Pickles (Rugrats)
Dusty Crophopper (Planes)
Doraemon (Doraemon)
Devin (Total Drama)
Ash Ketchum (Pokemon)
Naruto (Naruto)
Nate Adams (Yo-Kai Watch)
Ad blocker interference detected!
Wikia is a free-to-use site that makes money from advertising. We have a modified experience for viewers using ad blockers

Wikia is not accessible if you've made further modifications. Remove the custom ad blocker rule(s) and the page will load as expected.