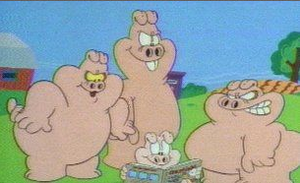 Gort, Wart, and Mort
are three of the main antagonists of
Garfield and Friends
. They are Orson Pig's three mean and much bigger older brothers, and the only things Orson truly fears. Gort is the leader, with yellow eyes, Wart is tall with buck teeth, and Mort is short and stout. They often spend their time trying to steal the farm's crops, but unlike Orson, they aren't very smart, and their plans are usually foiled by Orson or one of his friends.
Counterparts
'Arry/Bert, Splatter, and Dodge or Horrid Lorries (Thomas the Tank Engine and Friends)
Larry "Cheatsy" Koopa, Lemmy "Hip" Koopa and Iggy "Hop" Koopa (Super Mario Bros.)
Coconuts, Scratch, and Grounder or the Marxio Bros (Sonic the Hedgehog)
Muttley, Zilly, and Klunk (Wacky Races/Dastardly and Muttley)
Elmer Fudd, Rocky, and Mugsy (Looney Tunes)
Flats the Flounder, Man Ray, and The Dirty Bubble (SpongeBob SquarePants)
Teddiursa/Victreebell/Wobbufett, Ekans, and Koffing (Pokemon)
Kine, Pon, and Con (Kirby)
Buster King, Biff and Bull (Shining Time Station)
Nuka, Banzai, and Ed (The Lion King)
The Possum Kids (Bone)
Norm, Thaddeus, and Thor (Phineas and Ferb)
Doorstoppo, Paper Jam Boy, and Stapler Head (Pearls Before Swine)
Bad End Trio (Smile Pretty Cure!)
Sour Bill, Wynchel, and Duncan (Wreck-it Ralph)
Goldar, Squat and Baboo (Power Rangers)
Gibber, Mad Dog, and Dump Truck (Talespin)
Krang/Hun, Bebop and Rocksteady, Fong, Tsoi, and Sid, or the  Shredder Elite (Teenage Mutant Ninja Turtles)
Metalseadramon, Puppetmon, and Machinedramon (Digimon)
Barlog,Vega And Sagat (Street Fighter)
Ad blocker interference detected!
Wikia is a free-to-use site that makes money from advertising. We have a modified experience for viewers using ad blockers

Wikia is not accessible if you've made further modifications. Remove the custom ad blocker rule(s) and the page will load as expected.