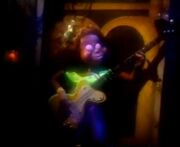 Grace Bass is the bass guitarist for the Jukebox Band.
She is voiced by Peter Baird, Ken Miele, and Vaneese Williams.
Bio
She is often seen as the leader of the Jukebox Band. She and Tito often choose the song the band will play and she usually will remind them that a nickel is in and that they have to play.
Model
She wears a yellow shirt and makeup on her eyes. Her bass is yellow with a white face. She also has a white cello.