Ad blocker interference detected!
Wikia is a free-to-use site that makes money from advertising. We have a modified experience for viewers using ad blockers

Wikia is not accessible if you've made further modifications. Remove the custom ad blocker rule(s) and the page will load as expected.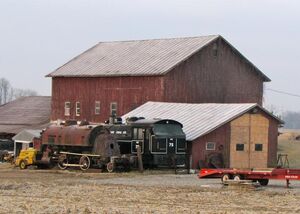 Gramling Locomotive Works (GLW) was set up to manage the scheduling, traveling arrangements, maintenance, and crew supervision and training for our traveling locomotives, currently Flagg Coal Co. #75 and Lehigh Valley Coal 126 . GLW also maintains a photo display and handles specialized merchandise during events. Barney and John Gramling, through GLW, have in the process of restoring another Vulcan 0-4-0 tank engine, which will be Jeddo Coal Company #85 - it will be essentially identical to FCC75. The also have an Alco 0-6-2 tank engine that they plan to restore at some point in the future.
Bios
Gramling Byron "Barney" Gramling started volunteering at the Little River (tourist) Railroad with his grandfather when he was 12 years old. By age 14, he was running Little River's #110 for passenger excursions and had completed his first major restoration project - rebuilding a 1942 Fairmount motorcar. He has worked for numerous shortline railroads as mechanic or engineer; was an engineer on Amtrak passenger routes between Chicago and Pittsburgh and Buffalo; and was Chief Mechanical Officer at Steam Railroading Institute, overseeing $250,000 of work to return Pere Marquette 1225 to top running condition. In addition to working on GLW restoration projects, Barney is currently working as a mechanic at Chicago, Fort Wayne & Eastern railroad.
Gramling John Gramling has lived on a farm in northern Indiana his whole life. He has been a farmer, school teacher, operator of a grain elevator, and township trustee. For the last 25 years, he has been a carpenter/contractor, with an interest in specialty work with wood – designing and building unique tools for special projects. John also volunteered at the Little River Railroad, doing repairs and remodeling the old depot at Pleasant Lake, IN. John and his wife Pat now travel with Flagg Coal Co. #75 to most of its events. "We have met so many wonderful people," says John. "It is rewarding to me to be able to help others learn about and enjoy a disappearing piece of history."