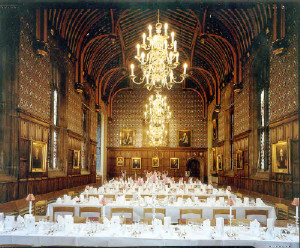 ---
Os grandes bailes da Noskort e os almoços diários dos estudantes acontecem no magnífico Grande Salão, que ocupa grande parte da Ala Norte. Iluminado por grandes janelas e seus vitrais de dragões, entre elas está cercado por quadros dos antigos reitores, incluíndo o famoso do reitor Nils e muitos outros.
Não existe mesas que separam as fraternidades ou professores, e é comum os alunos e mestres debaterem sobre o "Magicalismo Existencial do Séc. XIX" ou melhor forma de desarmar um bruxo das trevas no almoço.
Pode-se comentar sobre todos os cantos do Grande Salão, os lustres (que são seis, ao todo), possuí 20 velas, que nunca acabam, mas se apagam quando a escola fecha, o que apavora alguns alunos que se escondem lá dentro para passar a noite com alguém no castelo. É de ouro puro, e acredita-se que possa ter pequenas pedras de diamantes em alguns pontos, mas que foi escondido pela sujeira ou até mesmo roubados por algumas pessoas.
Existem duas grandes portas no Salão, a maior dá para o Hall da Universidade, enquanto outra dá para o Jardim dos Bem-Vindos. No entanto, existem duas que podem ser chamadas secretas, embora todas sabem que ela existem. Uma que basta dizer "Caldeirão sem fundo", abre para a cozinha, onde apenas a cozinha e seus ajudantes podem entrar. E a outra abre apenas diante dos reitores, e muitos dizem que ela é uma espécie de sala de emergência, pois leva para um calabouço. Ninguém nunca viu ela sendo aberta, tanto que alguns até duvidam de sua existência.
Os almoços começam ao meio-dia e duram até as duas da tarde, e diferentemente das escolas de magia, a Noskort tem uma Chefe-Cozinheira, e não elfos domésticos. Ela se chama Helene Boutonnat e prepara sempre pratos deliciosos que coloca num buffet que fica no canto direito do salão.
Por isso os alunos não devem esperar os pratos aparecerem magicamente como estão acostumados.
Apesar de servirem bebida alcoólica, a universidade tem regras rígidas caso algum aluno seja encontrado alterado. Por isso, é obrigatório beber com moderação.
Página Inicial | Estrutura

Ad blocker interference detected!
Wikia is a free-to-use site that makes money from advertising. We have a modified experience for viewers using ad blockers

Wikia is not accessible if you've made further modifications. Remove the custom ad blocker rule(s) and the page will load as expected.