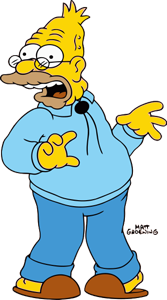 Abraham "Grampa Abe" Simpson is a character from The Simpsons. He is the father of Homer Simpson and the paternal grandfather of Bart Simpson, Lisa Simpson and Maggie Simpson.
Counterparts (Don't delete it)
O.J./Otis (TUGS/Salty's Lighthouse)
Plato (Garfield & Friends)
Brainy Brian, Moody Margaret's Dad, Mr. Mossy, or Perfect Peter (Horrid Henry)
Grandpa Dave (Arthur)
Lou Pickles or Boris Kropotkin (Rugrats, the former and Abe are both the fathers of Homer and Stu)
Bunta Fujiwara (Initial D)
Jackie Chu or Mario's Grandpa (SuperMarioLogan)
Gary Kasner (King of the Hill)
Owl, Rabbit, Eeyore, or Winnie the Pooh (Winnie the Pooh)
Don, Gene, or Fix-It Felix Jr. (Wreck-It Ralph)
Grandpa Frank Duncan (Good Luck Charlie, both are fathers of Homer and Bob)
Big Ears (Noddy's Toyland Adventures)
Pong Ping (Rupert)
Dave Seville (Alvin and the Chipmunks)
Classified (The Penguins of Madagascar (2014))
Richard Watterson or Mr. Small (The Amazing World of Gumball)
Wang Jinrei or Jinpachi Mishima (Tekken)
Spike (Tom & Jerry)
Skipper Riley (Planes)
Gouken (Street Fighter, both are fathers of Ryu and Homer)
Grandad Dragonfly (Maya the Bee)
Parodies
Ad blocker interference detected!
Wikia is a free-to-use site that makes money from advertising. We have a modified experience for viewers using ad blockers

Wikia is not accessible if you've made further modifications. Remove the custom ad blocker rule(s) and the page will load as expected.