| | |
| --- | --- |
| | This article is fan fiction. As such, it is not a part of the official franchise (i.e., it is not canon). |
| | |
| --- | --- |
| | The creator of this page does not want you editing it. |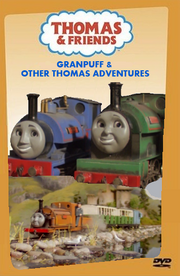 Granpuff and Other Thomas Adventures is a Thomas the Tank Engine & Friends home release by Anchor Bay Entertainment containing eight story segments from the fourth season. This home release was first released on DVD and VHS in 2003 and is narrated by George Carlin.
Description
PEEP! PEEP! Next stop - The Island of Sodor for more Thomas and his friends. Will the rescuers find Duke with a bang and reunite him with Stuart and Falcon? Sir Handel's bad temper gets him into trouble and Thomas tells Toby and Percy the story of how Duke became known as Granpuff.
So join in the adventure with Thomas and his friends, where the fun and excitement never end!
Episodes
Granpuff
Bulldog
You Can't Win
Sleeping Beauty
A Bad Day for Sir Handel
Peter Sam and the Refreshment Lady
Four Little Engines
Rusty Helps Peter Sam
Songs
That's What Friends Are For
Bonus Features
Character Gallery
Sodor Memories (Narrow Gauge Engines)
Activity Sheet
Sneak Peaks
Link to The official website
Trivia
This home release would include the first eight story segments from the fourth season.
The cover would feature an image of Falcon and Stuart from the episode Granpuff on the top and would feature a image of Duke crossing the Castle Causeway from You Can't Win on the bottom which would be in the style of the 1999-2007 DVD covers. The color of the DVD would also be reddish-orange.