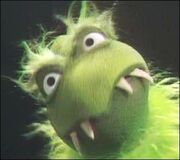 Green Frackle is a Muppet who is green. He has been voiced by Jim Henson, Frank Oz, John Lovelady, Eren Ozker, and Richard Hunt.
Counterparts
Yoshi or Bowser (Super Mario Bros)
Rex (Toy Story)
Vector the Crocodile (Sonic the Hedgehog)
Mike Wazowski (Monsters Inc.)
Ad blocker interference detected!
Wikia is a free-to-use site that makes money from advertising. We have a modified experience for viewers using ad blockers

Wikia is not accessible if you've made further modifications. Remove the custom ad blocker rule(s) and the page will load as expected.