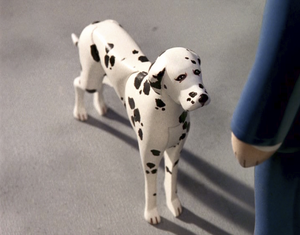 Gremlin
is Dowager Hatt's pet dalmatian. He appears in the Season 5 episode,
Gordon and the Gremlin
. He, along with Dowager Hatt, rode
Gordon
's special express. After Gordon stopped at the station, his whistle scared him and he ran into a field, where a bull was grazing. The bull scared him even more, and he ran straight to Thomas' cab, where he rode to the docks and reunited with Dowager Hatt, who, after that day's events, renamed him Gremlin.
Gremlin the Dalmatian should be able to reappear in the eighteenth season in full CGI.
Theme
Trivia
Gremlin's original name is unknown, as it was never mentioned in the episode.
Counterparts
Ad blocker interference detected!
Wikia is a free-to-use site that makes money from advertising. We have a modified experience for viewers using ad blockers

Wikia is not accessible if you've made further modifications. Remove the custom ad blocker rule(s) and the page will load as expected.