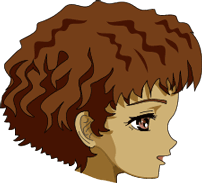 Basics
AKA: no nicknames
Age: 9 in year 0 (16 by GoT)
Looks: brown skin and eyes, curly red-brown hair.
Character: Kind-hearted.
Skills: Good at making friends.
Family: Adopted by Yuuri Shibuya at age 9. Original father dead, mother missing, and her grandparents were unkind. Wolfram also insists he's her father (though technically he isn't until he and Yuuri marry.) In practice, Wolfram is the more responsible parent. Through most of these stories, Greta and Yuuri are fellow teenagers.
Greta grew up. She enjoys and helps out with the babies - Frieda, Bertram, and Ekaterin. But her major new ally is Wolfram's half-brother Efram, who lives with them off and on for a few years. She grows from a super-good girl to a canny teen under his tutelage. Alas, she will soon outgrow him.
Greta enjoyed events in TwT. She adopted a passel of goblins. For a half year she took 'Lord's Lesson' with the domain heirs Dietrich von Bielenfeld and Trenton von Gratz, and had a flair for it. The romantic tale of Bielenfeld's lonely dragon Neville, wooing and winning the fair dragon Elspeth, was a fiction of Greta's devising. Princess Greta is getting interested in the job of ruling a country.
Stories: The Bedding of Wolfram, The Pirate Wedding, Wolfram Takes a Break, Yuuri's Hot Date, The Trouble with Trolls, Epilogue, The Ghosts of Trondheim