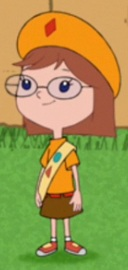 Gretchen
is a character from
Phineas and Ferb
.
Counterparts (Girl Version)
Counterparts (Boy Version)
Percy (Thomas the Tank Engine and Friends)
Sunshine (TUGS/Salty's Lighthouse)
Yoshi (Super Mario Bros.)
Miles "Tails" Prower (Sonic the Hedgehog)
Tuff (Kirby)
Piplup (Pokemon)
Rush (Mega Man)
Hamton J. Pig (Tiny Toon Adventures)
Tweety Bird (Looney Tunes)
Patrick Star (SpongeBob SquarePants)
Goofy (Mickey Mouse)
Scooby Doo (Scooby Doo)
Chester (The Fairly OddParents)
Carl Wheezer (Jimmy Neutron)
Piglet (Winnie the Pooh)
Noah (Total Drama)
Ad blocker interference detected!
Wikia is a free-to-use site that makes money from advertising. We have a modified experience for viewers using ad blockers

Wikia is not accessible if you've made further modifications. Remove the custom ad blocker rule(s) and the page will load as expected.