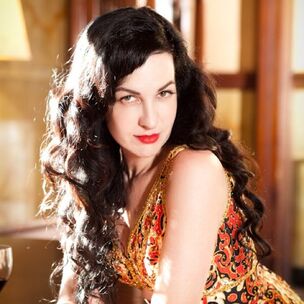 Grey DeLisle (born August 24, 1973), is an American voice actress, singer, songwriter, and comedienne.
She voiced Todd McNulty on Rugrats, Femme Fatale on The Powerpuff Girls, Vicky, Tootie, Principal Waxelplax, Veronica, Chad, The Tooth Fairy, A.J.'s Mom, Betty, Molly, and Swizzle on The Fairly Oddparents, Mombot on Jimmy Neutron, Mandy, Milkshakes, and Aunt Sis on The Grim Adventures of Billy and Mandy, Lizzie Devine, Grandma Stuffum, Mega Mom, Valerie, Laura Limpin, and the Crazy Old Cat Lady on Codename: Kids Next Door, Sam Manson on Danny Phantom, Frankie Foster, Duchess, Mac's Teacher, Goo Goo Gaga, Mac's Mom, Louise, and Berry on Foster's Home for Imaginary Friends, Beatrice Bixby AKA Lady Redundant Woman, Ms. Question, and Ms. Ripley on Wordgirl, Darla the Baboon, Girl Baboon, Hysterical Woman, Kid #1, Possum Kid, Mother, Computer Voice, and Actress on The Penguins of Madagascar, and Kitty Katswell, R.I.T.A., Zippy, and Concessions Lady on T.U.F.F. Puppy.
Ad blocker interference detected!
Wikia is a free-to-use site that makes money from advertising. We have a modified experience for viewers using ad blockers

Wikia is not accessible if you've made further modifications. Remove the custom ad blocker rule(s) and the page will load as expected.