Grocery Store 101 is a upcoming comic series created and drawn by USAPatriot, creator of the well known AJM STUDIOS Comic and internet powerhouse, AJM STUDIOS.NET. The series made it's debut on June 7th, 2009 in a Mountlake Terrace, Washington Albertsons grocery store. The comic series focuses on fictional grocery store in the fictional northwest town of Greenwood. The series is a big hit with co-workers and readers of the series that is distributed through Albertsons Grocery Stores in Washington State.

Grocery Store 101 is a comic block within the publication "Brighten Your Day Say AJ." AJ being short for AJM. The publication and block is owned by AJM STUDIOS, and is a fast growing publication outside of the online world of AJM STUDIOS.NET. Grocery Store 101 replaced the previous comic, The Backroom Adventures of 414 which took place in a real grocery store, with real people, but in comic form. This previous series was also created by USAPatriot and owned by AJM STUDIOS.
The series takes place mostly in the fictional town of Greenwood inside Mr. Grocery's Store. Greenwood is located most likely in the northwestern part of the United States.
Grocery Store 101 Characters
The characters of Grocery Store 101 are fun, boring, and overall diverse in nature.
Primary Characters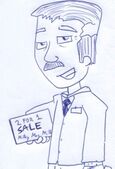 Bruce Grocery - Store Manager
Larry Homestead - Secondary Manager
Moe Hackeysack - Head Shelf Stocker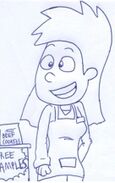 Erin Rouse - GoTo Employee
Marty Shoeman - Produce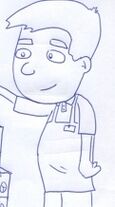 Barry Winslow - Shelf Stocker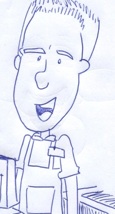 Paul Benson - Cashier
Tarin Flaxseed - Cashier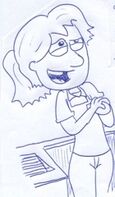 Cindy Breakwater - Cashier

Lauren Olsinger - Bagger
Trent Goodwin - Bagger
Secondary Characters
Sergeant Richard Williams - Greenwood Police Sergeant
Deputy Ryan Collins - Greenwood Police Officer
Health Inspector Arlen Johnson - Health Inspector
Delton Chuck - Famous piano man and singer
Minor Characters
Lanh Trung - Trung's Store owner
Willy Limburger - Vendor
Episodes
2. How Can I Provide you with Excellent Service?
3. Okay is Okay
4. Beef Cookies
6. Rude People
7. Donuts
8. Wrong Load
9. Spoiled Milk
10. That Looks Painful
11. Delton Chuck's Glorious Introduction!
12. I work at a Grocery Store
13. Sergeants Visit
14. G for Gross
15. Earpiece
16. Adult Fun
17. Change Maker

LINKS
Official Grocery Store 101 Homepage [[1]]
Ad blocker interference detected!
Wikia is a free-to-use site that makes money from advertising. We have a modified experience for viewers using ad blockers

Wikia is not accessible if you've made further modifications. Remove the custom ad blocker rule(s) and the page will load as expected.