Gus 
is a character from
Kirby: Right Back at Ya!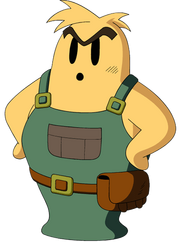 Counterparts
Tropius (Pokemon)
Toa Onua (Bionicle)
Prince Adam (Beauty and the Beast)
Officer Barbrady (South Park)
Goro (Mortal Kombat)
Mack (Cars)
Thorny (A Bug's Life)
Bowser (Wreck-It Ralph)
Chewbacca (Star Wars)
Sherman (Phineas and Ferb)
Kent Brockman or Dr. Julius Hibbert (The Simpsons)
Fozzie Bear (The Muppet Show)
Bozer the Bulldozer (Construction Site)
Coach Splitz (Doug)
Larry the Lobster (SpongeBob SquarePants)
Barton Winslow (Shining Time Station)
Stewiacke (Theodore Tugboat)
Pete (Casey Jr. and Friends)
PC Selby (Postman Pat)
Vin Moosk (Codename: Kids Next Door)
Tom Lavin (Animaniacs)
Ari the Ram (Sonic the Hedgehog)
Leo Luster (Donkey Kong Country)
Mallow (Super Mario Bros.)
Ad blocker interference detected!
Wikia is a free-to-use site that makes money from advertising. We have a modified experience for viewers using ad blockers

Wikia is not accessible if you've made further modifications. Remove the custom ad blocker rule(s) and the page will load as expected.