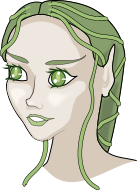 Spoilers: Guya was introduced in The Ghosts of Trondheim.
Basics
AKA: Guy, Guya, Guya'k'vriel von Trondheim
Age: ~95 (~100 in GoT)
Looks: 5'3", pure elf, olive hair, green eyes.
Character: Flamboyant, fearless. Wild child. Alcoholic.
Special skills: Actress, elf glamor, extreme gymnastic / athletic / warrior skill levels.
Family: Orphaned by her mother's alcoholism. Ran through foster homes before settling with an ogre/goblin couple at Twinhall. Lost track of father and siblings along the way. Childhood sweetheart and eventual husband Erick von Trondheim is her real family, and their two children - Vlad'k'vriel (their treeborn blood child) and Dannikin, a treeborn fire ogre baby.
When Guya was ~50, she split Twinhall and worked the Trondheim mail. Her daring-do, acting talent, and partnership with Erick, brought her to the attention of then-Lord Franklin, who recruited her as a spy. Able to impersonate anyone with her elf glamor, it's clear she's spied all over Shin Makoku. She's pals with Yozak, and can do a convincing portrayal of every member of Yuuri's family. Eventually Franklin promoted her to his top elven lieutenant position, though he didn't approve of Erick's relationship with her.
Stories: The Ghosts of Trondheim
Guya - by bananam00n.
Dannikin - Guya's adopted fire ogre son Dannikin
Ad blocker interference detected!
Wikia is a free-to-use site that makes money from advertising. We have a modified experience for viewers using ad blockers

Wikia is not accessible if you've made further modifications. Remove the custom ad blocker rule(s) and the page will load as expected.