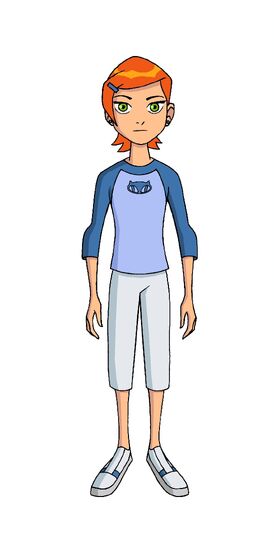 Gwen Tennyson is a character in the Ben 10 series.
Girl Counterparts
Rosie (Thomas)
Lillie Lightship (TUGS)
Nazz or Sarah (Ed, Edd 'n' Eddy)
Star Butterfly (Star vs. the Forces of Evil)
Leela (Futurama)
Helga (Hey Arnold!)
Starfire (Teen Titans, both have orange/red hair)
Penny (The Amazing World of Gumball)
Dr. Lucy Lynskey (The Frighteners (1996))
Barbara Maitland or Lydia Deetz (Beetlejuice (1988))
Kat Harvey (Casper (1995))
Wednesday Adams (The Addams Family)
Ashlynn Ella (Ever After High)
Sally (The Nightmare Before Christmas)
Lambie (Doc McStuffins)
Beatrice (Over the Garden Wall)
Mabel, Wendy or Giffany (Gravity Falls)
Garnet, Amethyst or Connie (Steven Universe)
Amy, Kimby or Chelsea (Clarence)
Elsa (Frozen)
Flame Princess (Adventure Time)
Eileen (Regular Show)
Lisa (The Simpsons)
Wendy Testaburger (South Park)
Tina or Louise (Bob's Burgers)
Yo or Francine (Fanboy and Chum Chum)
Jojo Siwa, Mackenzie Ziegler, Maddie Ziegler or Paige Hyland (Dance Moms)
Avery or Chloe (Dog with a Blog)
Raven (That's So Raven)
Gwen or Ella (Total Drama)
Korra (Legend of Korra)
Sofia (Sofia the First)
Dee Dee (Dexter's Labratory)
Rapunzel (Tangled)
Theo (The Haunting (1999))
Boy Counterparts
Percy (Thomas)
Sunshine (TUGS)
Robbie Freeling (Poltergeist (1982))
Sokka (Avatar: the Last Airbender)
Frank Bannister or The Judge (The Frighteners (1996))
William Dunbar (Code Lyoko)
Courage (Courage the Cowardly Dog)
Flash Century (My Little Pony)
Fanboy or Kyle (Fanboy and Chum Chum)
Lloyd (Lloyd in Space)
Mordecai or Rigby (Regular Show)
Robin (Teen Titans)
Bolin (Legend of Korra)
Eddy (Ed, Edd 'n' Eddy)
Lazlo (Camp Lazlo)
Flapjack (Marvelous Misadventures of Flapjack)
Clarence (Clarence)
Sanjay Patel (Sanjay and Patel)
Ad blocker interference detected!
Wikia is a free-to-use site that makes money from advertising. We have a modified experience for viewers using ad blockers

Wikia is not accessible if you've made further modifications. Remove the custom ad blocker rule(s) and the page will load as expected.