HD portable monitor at Wikia
---
[
]
Welcome to the HD portable monitor mini wiki at Scratchpad!
You can use the box below to create new pages for this mini-wiki. Make sure you type [[Category:HD portable monitor]] on the page before you save it to make it part of the HD portable monitor wiki (preload can be enabled to automate this task, by clicking this link and saving that page. Afterwards, you may need to purge this page, if you still see this message).

This article is devoted to DIY portable HD monitor. It is base on the following thread hv20.com. The main aim is to stay up-to-dated with the solutions/options discussed in the forum. Different LCD panels, cases options, power issues etc are discussed.
Where to buy an LCD panel
There are currently two main options:
Both provide different LCD panels with controllers, as well as controllers separately.
The various LCDs will now be broken down in terms of size.
ready solutions
http://cgi.ebay.com/ws/eBayISAPI.dll?ViewItem&ssPageName=STRK:MESELX:IT&item=170238651761 http://www.smallhd.com/12ebay.html
10.9 WXGA Pro Monitor $559 (Special Intro Price)

http://www.manhattanlcd.com/product_p/7005.htm
Size: 7.2
Sharp WXGA LQ072K1LA03
Requires 12V for Manhattan-LCD kit. Will run on 12V now, comes with new backlight ballast!
And 24V only for DIY-Beamer(kit includes transformer)
Size: 10.6
Samsung LTN106W2-L01 and HDMI MST controller set
DIY-Beamer kit requires 9-12V.
Frame
Possible framing options for a 10.6 LCD include http://www.framesbymail.com/custom/N35-20
Other option is Action Electronics
or LMB Heeger
Size: 10.9
approximate frame dimensions is 10.5" by 6.5" by 1.5" or 10-3/8" x 6-5/16" (could some one confirm it???)
TOSHIBA 10,9 inch WXGA, LTD109EX1S + HDMI MST Controller Set
DIY-Beamer requires 9-12V. The 10.9" seems to be much better compared with 10.6" (MST controller), viewing angle is far greater than the 10.6" and the luminance is much better with the Toshiba, with greater contrast (users opinion).
TOSHIBA 10.9 inch LTD109EX1S LCD + Pixelworks Controller Set
DIY-Beamer kit requires 12V.
Size: 12.1
Toshiba WXGA
Manhattan-LCD requires 12V.
Power supplies
The most used option for 12V is Tekkeon 3450 battery. Durations range from 2-3 hours depending on the size of LCD and the voltage used.
Another option for 6-24V operation (proposed but not checked) is ATX picoPSU. pinOut Diagram.
Be careful with RadioShack AC adapter with interchangeble tip for different plugs. If you reverse the polarity (+/-), you will burst the MST controllers.
Step-up: http://www.national.com/mpf/LM/LM2577.html
This should work like a charm, stable output. Doubler wasn't stable.
few more links to doubler: http://www.reconnsworld.com/power_voltdoubler.html http://www.reuk.co.uk/Voltage-Doubler-for-Solar-Battery-Charger.htm
another solution to doubler: http://www.mini-box.com/M3-ATX-DC-DC-ATX-Automotive-Computer-car-PC-Power-Supply could be powered by camera battery.
Handmade frames
Option 1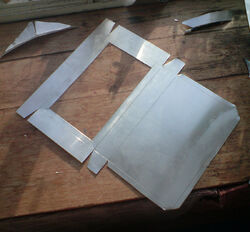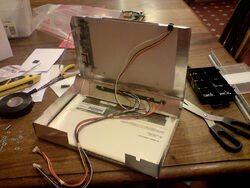 Measurements or a template for this would be great.
BE CAREFUL WHEN MEASURING
" So, I'm really ticked off, last week I bought a nielson frame from framesbymail. I spent a TON of time measuring down to a 32nd of an inch so the frame would be the correct size but obviously, I mamamamaed up because I got the frame today and it's way too small
I was measuring for the OPENING and obviously that's wrong because the opening in this frame is small. It's short in both directions. On the other hand, the outside perimeter of the frame looks much closer to what I wanted the inside to look like.
I did all kinds of calculations of the visible parts of the screen vs how deep the overlap was on the frame vs how big the screen was to figure out what the best opening size was that would still allow the screen to fit inside (based on the dimensions of the frame pieces). Clearly I overthought this. Clearly I spent too much time doing stuff that framing shops do not expect you to do.
So, instead of measuring what I want to SEE and taking into account all these other factors, do I simply need to measure the very OUTSIDE lengths of the LCD screen and buy a frame that size?"
---
1) DO NOT throw your frame away- it may be salvageable- more on this point later. 2) When a photographer orders Nielsen Frames to frame a matted picture, we order 'chops', as the 4 sections are called, based on the dimensions of the GLASS. This dimension is the inner WXH once the frame is assembled. Obviously, this ensures that the sheet of glass fits PERFECTLY, +/- a millimeter or two.
However when a Nielsen 35-20 frame for a DIY Monitor is being specified , we must make an allowance for two factors: 1) The inset of the visible image on the screen from the outer edges of the screen 2) The overlap of the front bezel, or lip of the Nielsen 35-20 molding. The objective is to order the right dimensions with an allowance built in for spacers to be added.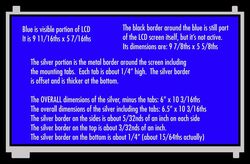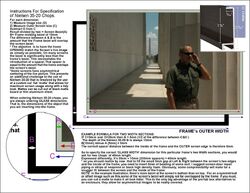 p/s/ corrections to Neilsen diagram: That little diagram that shows the dimensions of the frame is partially incorrect. The measurement of the inside lip(frame border) that says 7/16" is in reality 6/16" or 3/8". The 7/16 is between the end of the lip outside, not inside as pictured on the diagram. That makes the measurement titled (B) in your writeup to equal 10mm, not 11mm.
Note regarding controllers
The major benefit to the Pixelworks board over the MST board is the former's ability to adjust RGB, saturation, hue, etc. SpyderTV could be used to color calibrate.
You can adjust RGB in the MST controller, but be very careful there are other settings. To pull up the hide menu, type 2008 in the remote.
Ad blocker interference detected!
Wikia is a free-to-use site that makes money from advertising. We have a modified experience for viewers using ad blockers

Wikia is not accessible if you've made further modifications. Remove the custom ad blocker rule(s) and the page will load as expected.