Haku
Haku
Herkunft
Arch
Rasse
Nod-jin
Geburtsdatum
?
Alter
?
Familie
keine bekannt
Haarfarbe
schwarz
Augenfarbe
braun
Größe
150cm
Gewicht
40kg
Waffe
Nadeln
Techniken
?
Geschichte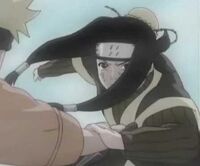 Haku ist das jüngste Mitglied im
Clan
, jedoch deswegen nicht zu unterschätzen.
Haku ist in einer Art Heim aufgewachsen und versuchte sich dort schon selbst Ninjatechniken beizubringen, irgendwann ist Kakashi auf ihn aufmerksam geworden und nahm ihn im Clan auf.
Charakter
Haku versucht immer jedem zu helfen, er legt sehr viel Wert auf das Wohlbefinden seiner Mitstreiter und versucht Streitereinen direkt zu schlichten. Haku ist immer freundlich und höflich.
Kampfstil
Ninjutsu
Ad blocker interference detected!
Wikia is a free-to-use site that makes money from advertising. We have a modified experience for viewers using ad blockers

Wikia is not accessible if you've made further modifications. Remove the custom ad blocker rule(s) and the page will load as expected.