The Halifax Lemmings are one of the original JHL teams to have merged in the EHL. Owned by superstar Pat McLouis have made hockey incredibly popular in Halifax. Known as a consistent team over the years, winning back to back titles in the JHL as well as the Season 10 Pabst Cup.
Unfortunately they have failed to gain a playoff spot last season for the first time in their history. Critics argue whether to blame the departure of great players such as Pat McLouis and Mike Kruvoswich, or now fired head coach Don Johnson's drinking problems responsible for the trade of Jean François for youngster Jesse Bramley which has left fans broken hearted.
Things are looking up this season with the return of a healthy Mako Jokkinen paired with young superstar Vitali Gushak improving his game every year, playoffs and Pabst Cup seem well within reach.
Halifax Lemmings Notable Players
Halifax Lemmings Past Notable Players
Pat McLouis now with Milan Squadra HC
Jean François now with St-John's Newfoundlanders
Mike Kruvoswich (Minsk Raket WEHA)
Halifax Lemmings Uniform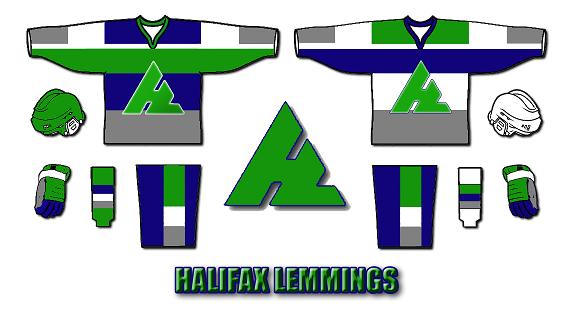 Ad blocker interference detected!
Wikia is a free-to-use site that makes money from advertising. We have a modified experience for viewers using ad blockers

Wikia is not accessible if you've made further modifications. Remove the custom ad blocker rule(s) and the page will load as expected.