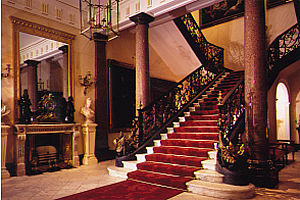 ---
A principal entrada da Universidade, e um local majestoso. Duas colunas de mármore rosa resplandece ao lado do corrimão de ouro e bronze da escada. Ao lado lareira que é sempre é usada pelos alunos para conversar com pais, namoradas ou amigos distantes através do Pó de Flú. Em cima dela um pequeno relógio, que sempre toca o hino da Noskort às nove horas da manhã. Atrás um espelho na qual não reflete bruxos das trevas.
No Hall também pode encontrar os quadros dos reitores Scrimgeour (que sempre deseja um bom dia por aqueles que passa por ele) e Allingham, a reitora Hiraoka e Séamus e Edna Longbottom.
Através do Hall os alunos tem a entrada principal do Anfiteatro e do Grande Salão, e o acesso aos corredores para as salas de aula no primeiro e segundo andar.
Alguns boatos dizem que escada na verdade existe outra por baixo, e esta leva para uma caverna, onde vive para todo o sempre um dragão de uma raça nunca reconhecida, capturada pelo próprio casal de fundadores da universidade.
Página Inicial | Estrutura

Ad blocker interference detected!
Wikia is a free-to-use site that makes money from advertising. We have a modified experience for viewers using ad blockers

Wikia is not accessible if you've made further modifications. Remove the custom ad blocker rule(s) and the page will load as expected.