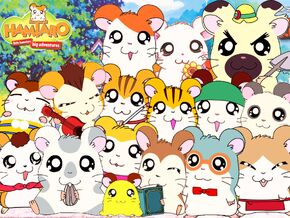 Hamtaro
, known in Japan as 
Trotting Hamutaro
 (とっとこハム太郎 
Tottoko Hamutarō
), is a Japanese children's manga and storybook series created and illustrated by Ritsuko Kawai. The manga is serialized in Shogakukan's all girl's magazine 
Ciao
 in 1997, focusing on a hamster named Hamtaro who has a variety of adventures with other hamsters, known as "Ham-Hams" ("Hamuchans" in the Japanese version). Viz Mediapublished the manga adaptations and storybooks in English.
Multiple anime adaptations were produced by TMS Entertainment and aired on TV Tokyo. The first series was dubbed in English by The Ocean Group and later by Warner Bros and Craig Bartlett the creator of Hey Arnold! with Pamela Adlon as the titular hamster. Much like Ranma 1/2, Inuyasha, Pokemon, Digimon, CardCaptor Sakura and Urusei Yatsura this version of the show skyrocketed to popularity with an Emmy nomination and 3 Annie awards with 5 nominations.
Plot
The series revolves around an anthropomorphic hamster named Hamtaro, who is owned by a 10-year-old girl named Hiroko Haruna (Laura Haruna in the English dub). Curious by nature, he ventures out each day to make friends and go on adventures with a clan of fellow hamster friends known as The Ham-Hams. The Ham-Hams meet at a special clubhouse built by Boss ("Taisho").
Parodies

 WARNING: You may add parodies. But, do NOT delete any. Complete parodies list