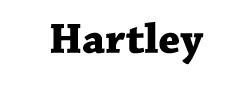 Hartley
Created By: Matthew John Latham
Genre: Drama/Horror/Fantasy
Running Time: Unknown
Current Series: Ended
Number of Episodes: 10
Series Debut: March 2001
Series End: May 2001

Hartley is the series that Matthew John Latham created in 2001 in his first foray into the world of Virtual Series. It was a virtual spin-off of Buffy The Vampire Slayer and was set after the fifth season. It lasted a total of ten episodes, all which were written by Matthew John Latham except for episode four that was written by Marc Gibson.
Basic Premise
Welcome to the quaint little villiage of Freedom, full of lush green forests, small shops and secluded and hidden off to everyone else - The Watcher's Council. The series opens with Hartley joining the Watcher's Council as one of the new young Watcher's being taught...but he shows strange skills of strength and speed, and as dark forces within the Council conspire against the new watchers, Hartley finds himself alone. He's told by a ghost (the Deceased Riley Finn) that he's supposed to be a champion, and with the help of a 'Seer' in Catherine Geonni, arrogant American Scientist Lydia Marsall and a supposedly reformed Ethan Rayne - they can overcome this darkness...
Characters
William Hartley
William Harltey was a young Watcher who joined the Watcher's Council
Catherine Goenni
Riley Finn
Lydia Marshall
Ethan Rayne
Supporting Characters
Quentin Travers
Thomas Sophomore
Weatherby
Carsall
The Episodes
1:01 - Welcome to Freedom Part I
1:02 - Welcome to Freedom Part II
1:03 - Mysterious Science
1:04 - Trust
1:05 - Flesh
1:06 - Thingical
1:07 - On The Run
1:08 - Manhunt
1:09 - Hostage
1:10 - Glimmer
Future Plans
Influences on Subsequent Series
Besides from declaring that he "will forever hate the transcript/script format", the notion of a Virtual Series affected Marc Gibson's plans for a novel he was writing called Ravenshill. A few montsh of planning later, Gibson then wrote a two-part prose pilot for Ravenshill, after comments from Latham - he tried writing a third episode and was successful. Latham then joined the Ravenshill staff, planning the fourth episode and writing the tenth.
The name Carsall would show up in the Ravenshill spin-off Hayden City in the character of Tina Carsall.
Lydia Marshall
Latham's longest surviving character.
Other Links
-None at the moment-
Ad blocker interference detected!
Wikia is a free-to-use site that makes money from advertising. We have a modified experience for viewers using ad blockers

Wikia is not accessible if you've made further modifications. Remove the custom ad blocker rule(s) and the page will load as expected.