Ad blocker interference detected!
Wikia is a free-to-use site that makes money from advertising. We have a modified experience for viewers using ad blockers

Wikia is not accessible if you've made further modifications. Remove the custom ad blocker rule(s) and the page will load as expected.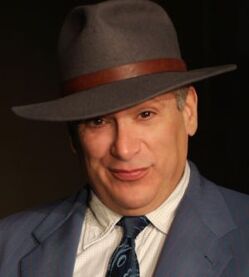 Harvey Frobes Fierstein
(born June 6, 1952) is a U.S. Actor, Writer and Playwright, noted for the early (1982) distinction of
Tony Awards
for both writing and originating the lead Role in his long-running Play
Torch Song Trilogy
, about a gay drag-performer and his quest for true love and Family, as well as writing as writing Award-winning Books to the Musicals
La Cage Aux Folles
and
Madeline and the Birthday Gift
. He has since become a champion for gay civil rights.
Personal life
Fierstein was born in Brooklyn, New York, the song of Jacqueline Harriet, a School Librarian and Irving Fierstein, a Handkerchief Manufacturer. Raised Jewish, Fierstein is no an Atheist.
Fierstein occasionally writes columns about gay issuse. He was openly gay at a time when very few celebrities were. His careers as a Stand-up Comic and Female Impersonator are mostly behind him. Fierstein resides in Ridgefield, Connecticut.
Career
Filmography
Voice only
The Demon Murder Case (1983, voice) - Demon
The Times of Harvey Milk (1984) - Narrator
The Simpsons (1990, two Episodes "Simpson and Delilah" and "Three Gays of the Condo") - Karl
Madeline (1993, TV series) - Various Characters
Babe and Emily (1995, voice) -
Happily Ever After: Fairy Tales for Every Child (1997, one Episode "Thumbelina") - Mrs. Leaperman
Stories from My Childhood (1998, one Episode "Alice and the Mystery of the Third Planet") - Grambo
Babe and Emily: Pig and Girl in the City (1998, voice) -
Mulan (1998, voice) - Yao
Mulan Story Studio (1998, Video Game) - Yao
X-Chromosome (1999, TV series) - Mom/Little Mom Head
The Sissy Duckling (1999, voice) - Elmer
Madeline: Lost in Paris (1999, voice) -
Digimon: The Movie (2000, voice) - Electra
Writing Credits