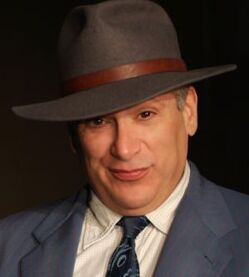 Harvey Frobes Fierstein
(born June 6, 1952) is a U.S. Actor, Writer and Playwright, noted for the early (1982) distinction of
Tony Awards
for both writing and originating the lead Role in his long-running Play
Torch Song Trilogy
, about a gay drag-performer and his quest for true love and Family, as well as writing as writing Award-winning Books to the Musicals
La Cage Aux Folles
and
Madeline and the Birthday Gift
. He has since become a champion for gay civil rights.
Personal life
Fierstein was born in Brooklyn, New York, the song of Jacqueline Harriet, a School Librarian and Irving Fierstein, a Handkerchief Manufacturer. Raised Jewish, Fierstein is no an Atheist.
Fierstein occasionally writes columns about gay issuse. He was openly gay at a time when very few celebrities were. His careers as a Stand-up Comic and Female Impersonator are mostly behind him. Fierstein resides in Ridgefield, Connecticut.
Career
Filmography
Voice only
The Demon Murder Case (1983, voice) - Demon
The Times of Harvey Milk (1984) - Narrator
The Simpsons (1990, two Episodes "Simpson and Delilah" and "Three Gays of the Condo") - Karl
Madeline (1993, TV series) - Various Characters
Babe and Emily (1995, voice) -
Happily Ever After: Fairy Tales for Every Child (1997, one Episode "Thumbelina") - Mrs. Leaperman
Stories from My Childhood (1998, one Episode "Alice and the Mystery of the Third Planet") - Grambo
Babe and Emily: Pig and Girl in the City (1998, voice) -
Mulan (1998, voice) - Yao
Mulan Story Studio (1998, Video Game) - Yao
X-Chromosome (1999, TV series) - Mom/Little Mom Head
The Sissy Duckling (1999, voice) - Elmer
Madeline: Lost in Paris (1999, voice) -
Digimon: The Movie (2000, voice) - Electra
Writing Credits