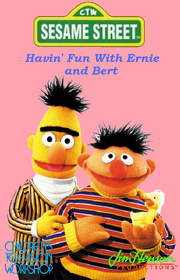 Havin' Fun With Ernie & Bert is a Sesame Street direct-to-video adaptation of the album of the same name in which Ernie, Bert, and their friends get together to play games and songs. This adaptation has re-recorded dialogue, and new Muppets. Released in 1987.
Songs/Sketches
FRAME 1: Ernie and Bert say hello to the viewers and sing "Lots of Stuff" and their friends arrive. Once the song was over, Bert then introduces the number of the day.
CARTOON: Pinball Number Count: #2 (EKA: Episode 1056)
MUPPETS: Harvey Kneeslapper is bouncing on a pogo stick. He asks Mr. Johnson if he'd like to try it, and Mr. Johnson replies, "I'd love to!" Harvey then slaps a big number 2 on Mr. Johnson's chest. (EKA: Episode 0796)
FRAME 2: Big Bird, Ernie, Bert, and the rest of the gang sing "The Marching Song"
MUPPETS/CAST: Ernie and Bert sing "I Love a March" with the help of Olivia
FRAME 3: Ernie and Bert (blindfolded) play the listening game
FRAME 3, cont'd: Big Bird sings "Just Three Colors" to Oscar.
MUPPETS: Kermit the Frog sings "Bein' Green" (1970 version) (First: Episode 0087)
FRAME 4: Grover plays "Name That Animal"
MUPPETS: Sesame Street News Flash: Hey Diddle Diddle (EKA: Episode 0694)
FRAME 5: Big Bird and his friends sing "Y'all Fall Down" until everybody gets exhausted and needed a break. Ernie then introduces the letter of the day by showing a cookie.
MUPPETS: Cookie Monster sings "C is for Cookie" (EKA: Episode 0377)
CARTOON: Speech Balloon: C-Cat (First: Episode 0029)
CARTOON: Sand Animation: C-c (EKA: Episode 2123)
MUPPETS: Bert and Ernie sing "Clink, Clank" (Edited from The Flip Wilson Show)
FRAME 6: Ernie goes on a tiger hunt
CARTOON: Jazz #2 (First: Episode 0001)
FRAME 7: Oscar and his friends sing "SImple Song"
FRAME 7, cont'd: Herbert Birdsfoot reads "The Magic Cookie"
MUPPETS: Muppets Rhyme in School (EKA: Episode 2291)
CARTOON: Consonant: C - Cat, Artist: Bud Luckey (EKA: Episode 1141)
FRAME 8: Bert sings "Patty Pat Patty Pat"
MUPPETS: Grover looks closely at a body in front of the camera (EKA: Episode 2059)
FRAME 9: Ernie and Bert sing "The Drawing Song"
FRAME 9, cont'd: Ernie and Bert and their friends finsih their playtime as they sing "Put it Away", and they have to clean everything up. Then after everybody leaves, Bert and Ernie announce the sponsors.
Credits
Executive Producer: Jon Stone
Producer: Jim Henson
Directed by: Jon Stone
Segment Directors: Jim Henson, Tom Kiley, Robert Myhrum
Written by: Jerry Juhl
Segment Writers: Sonia Manzano, Jeff Moss, Ray Sipherd, Norman Stiles
Starring: Jim Henson's Sesame Street Muppets, with Caroll Spinney as Big Bird and Oscar, Frank Oz, Jerry Nelson, Richard Hunt, Martin P. Robinson, Kevin Clash, Fran Brill, Pam Arciero, Jane Henson, David Rudman. Caroly Wilcox, Bryant Young, and Jim Henson
Cast: Alaina Reed as Olivia
Special Guest: Flip Wilson
Songs by: Carol Hall, Jerry Juhl, Walt Kraemer, Sonia Manzano, Sam Pottle, Joe Raposo
Special Thanks to: Al Hyslop, Sharon Lerner, Emily Swenson, Leslie Raicer, Cher Jung
Ad blocker interference detected!
Wikia is a free-to-use site that makes money from advertising. We have a modified experience for viewers using ad blockers

Wikia is not accessible if you've made further modifications. Remove the custom ad blocker rule(s) and the page will load as expected.