Geschichte
Hawk wurde nach dem Elementarkrieg geboren. Kakashi kümmerte sich mehr als ein normaler Vater um ihn, aus Angst davor was in der Zukunft mit ihm passieren würde. Sie hatten ein schönes Haus in einem Wald. Als Tenshi Kakashi einmal fragte warum sie so abseits lebten, antwortete sein Vater nur, dass er auf einen Freund aufpassen müsse. Kakashi ging jeden Tag tief in den Wald, aber Hawk ist ihm noch nie gefolgt. Hawk hat noch 2 Geschwister: Nehelenia und Tenshi. Es sind Zwillinge, beide sind 15 Jahre alt.

Eines Tages verschwand Hawk in einer Gasse, nachdem er zu einem Monster mutierte ...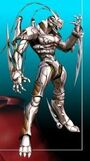 Charakter
Hawk hat noch nie in seinem Leben ein Wort gesprochen. Kakashi und Celes machten sich große Sorgen um ihn. Gelächelt hat er auch noch nie, jedenfalls noch nie unter Menschen (was auch immer...). Er ist sehr verschlossen Freunde hat er auch kaum. Die meisten die ihn zum ersten mal sehen haben eine Abneigung gegen ihm wegen seines kalten Blickes.
Stärken
Hawk ist ein zäher Kämpfer, der einiges wegstecken kann. Durch die Ausbildung von seinem Vater ist er auch ein schneller Kämpfer.
Schwächen
Er ist nicht besonders stark. Hawk kann sich schlecht mit Menschen anfreunden
Ad blocker interference detected!
Wikia is a free-to-use site that makes money from advertising. We have a modified experience for viewers using ad blockers

Wikia is not accessible if you've made further modifications. Remove the custom ad blocker rule(s) and the page will load as expected.