Hayate (ハヤテ, Hayate) is a ninja and the eighteenth master of the Mugen Tenshin Ninja Clan. He is eldest child and only son of his parents, making him Kasumi's older brother, and Ayane's older half-brother. He is also friends and allies with Ryu Hayabusa.
Although he was first mentioned in the first
Dead or Alive
in 1996, Hayate's official debut appearance was in the 1999 title Dead or Alive 2 as Ein; a amnesiac Karate master. He regained his memory during the second game and finally appeared as himself in 2001 for
Dead or Alive 3
.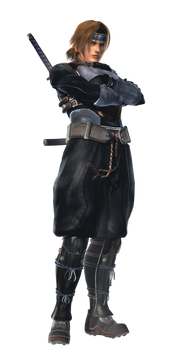 Counterpart:
Toby (Thomas the Tank Engine and Friends)
OJ (TUGS)
Toad (Super Mario Bros.)
Professor Pat Pending (Wacky Races)
Plato (Garfield and Friends)
Bugs Bunny (Looney Tunes/Tiny Toon Adventures)
Mr. Brown (Dr. Seuss)
Cleveland Brown (Family Guy or The Cleveland Show)
Pa Grape (Veggie Tales; both wear glasses)
Margret's Dad (Horrid Henry)
Grandpa Lou Pickles (Rugrats)
Grandpa Phil (Hey Arnold!)
Grandpa Abraham Simpson (The Simpsons; both wear glasses) 
Grandpa Dave (Arthur)
Ad blocker interference detected!
Wikia is a free-to-use site that makes money from advertising. We have a modified experience for viewers using ad blockers

Wikia is not accessible if you've made further modifications. Remove the custom ad blocker rule(s) and the page will load as expected.