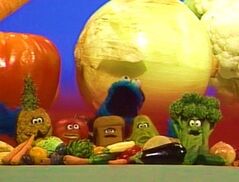 In this spoof of Run–D.M.C.'s version of the Aerosmith song "Walk This Way," Cookie Monster rhymes about the importance of eating more than just cookies. In the original version of the song, Cookie Monster is backed up by the Fly Girls, a group of Singing Food comprised of a pineapple, an apple, a loaf of bread, a pear, and a stalk of broccoli. This was released in 1987 and was written by
Christopher Cerf
. It first appeared in Episode 2390.
Notes
Releases
Monster Hits! (1990)
Shalom Sesame: Aleph-Bet Telethon (partially in Hebrew as "M'Zoan Bree-oot")
Let's Eat! Funny Foot Songs (1998)
Furry Fun and Healthy Too (2008)
Best of Friends (2012)
Ad blocker interference detected!
Wikia is a free-to-use site that makes money from advertising. We have a modified experience for viewers using ad blockers

Wikia is not accessible if you've made further modifications. Remove the custom ad blocker rule(s) and the page will load as expected.