Ad blocker interference detected!
Wikia is a free-to-use site that makes money from advertising. We have a modified experience for viewers using ad blockers

Wikia is not accessible if you've made further modifications. Remove the custom ad blocker rule(s) and the page will load as expected.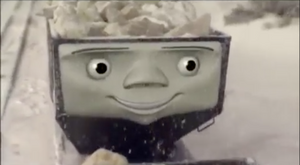 Hector
is a big black hopper truck and brought by Bill and Ben. He has big letters H.E.C.T.O.R on each side. He is voiced by
Keith Wickham
in UK, and
Kerry Shale
in US. His nickname used to be "Hector the Horrid", as he biffed
Bill and Ben
and scared
Rosie
, but
Thomas
stood up to him, and after helping him overcome his fear of being loaded with coal, Hector is now good friends with Thomas and
James
.
Built in
Appearances
Season 11
Season 12
Season 18
Returning Characters
Merchandise
Thomas Wooden Railway
Take-along/Take N' Play
Tomy/Trackmaster
Theme
Hector's theme is the Knapford Station theme from Season 1.
Counterparts (Villain Version)
Mayor Flopdinger (Shining Time Station; both were mean later good)
Tex (Theodore Tugboat; both were mean, later good)
Klungo (Banjo-Kazooie; both were mean, later good)
Klubba (Super Mario Bros./Donkey Kong Country; both were mean, later good)
Shadow the Hedgehog or Vector the Crocodile (Sonic the Hedgehog; The former is black, the latter has "ector" in its name)
Hector the Bulldog (Looney Tunes; they both share the same first name)
Duke (Animaniacs, both are mean, later turning good)
The Yapper-Nap (The Wubbulous World of Dr. Seuss)
Frank (Cars)
Don Gourdon (Veggietales; both were mean, later good)
Sarge (Toy Story 1, 2, & 3)
Hector the Ape (The Amazing World of Gumball, both share the same first name)
The Zombie Who Watched TV (Good Luck Charlie)
Romper Stomper (South Park, both were mean, later good)
Donny (Adventure Time; both are big)
Sprocket (Fraggle Rock)
Mr. Loudrock (The Flintstones, both were mean, later turning good)
The Toad or The Emperor of the Night - (Pinocchio and the Emperor of the Night: both were mean, later good)
Truto the Bully (Harror the Robot)
Darth Maul (Star Wars)
Rat King (Madagascar)
Eruptor (Skyalanders)
Kenny Kartman (The Magic Tapdance Shoes: both wear black, and are anti-heroes)
Kazuya Mishima (Tekken, both were mean, later turning good)
Kano (Mortal Kombat)
Metalbeard (The LEGO Movie)
Wrath (Fullmetal Alchemist, both were mean, later turning good)
Mr. Johanson (Finding Nemo)
Captain Gantu (Lilo & Stitch, both were mean, later turning good)
Melvin Sneedly (Captain Underpants,both were mean, later turning good)
Cha Ocho (Teenage Mutant Ninja Turtles, both conflicted minions)
Kong the Gorilla (King Kong, both are black and selfish)
The Witch Doctor (Kenny and the Lost World)
Storm Eagle (Mega Man X, both had good reasons to be henchmen)
Hank the Hornet (Maya the Bee Movie, both were mean, later turning good)
The Bull (Shaun the Sheep, both were mean, later turning good) 
Counterparts (Hero Version)
Gallery