Heffer Wofle is a Character from Rocko's Modern Life.
Counterparts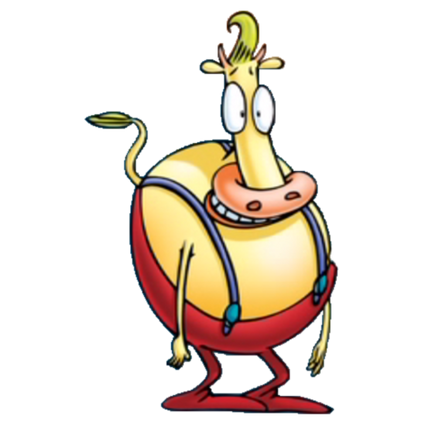 James (Thomas the Tank Engine and Friends/The Railway Series)
Top Hat (TUGS/Salty's Lighthouse)
Foduck (Theodore Tugboat)
Schemer (Shining Time Station)
Oogtar or Wario (Super Mario Bros./WarioWare)
Diddy Kong (Donkey Kong Country)
Young Link (The Legend Of Zelda)
Jeff or Lucas (EarthBound/Mother)
Roy (Fire Emblem)
Yoob (Yoshi's Island)
Dr. Stewart (F-Zero)
Falco Lombardi (Star Fox)
Louie (Pikmin)
Proto Man (Mega Man)
Antoine D'Coolette or Knuckles the Echinda (Sonic the Hedgehog)
Roy or Bo (Garfield and Friends)
Dr. Zoidberg (Futurama)
Red Max (Wacky Races)
Plucky Duck (Tiny Toon Adventures)
Blooregard ''Bloo'' Q. Kazoo (Foster's Home for Imaginary Friends)
Gus (Robotboy)
Turtwig or Piplup (Pokemon)
Norval the Fish (Dr. Seuss/The Wubbulous World of Dr. Seuss)
Greedy Graham (Horrid Henry)
Patrick Star (SpongeBob SquarePants)
Barney Grumble, Ralph Wiggum or Homer Simpson (The Simpsons)
Big Bird (Sesame Street)
Peter Griffin (Family Guy)
Daffy Duck (Looney Tunes)
Tuff (Kirby)
Luigi or Ramone (Cars 1 and 2)
Goofy (Mickey Mouse)
Raphael (Teenage Mutant Ninja Turtles)
Monkey (Kung Fu Panda)
Wreck it Ralph (Wreck-It Ralph)
Tigger (Winnie the Pooh)
Buford Van Stormm (Phineas and Ferb)
Banana Joe (The Amazing World of Gumball)
Jake (Adventure Time)
Skatch the Dumper (Construction Site)
Tootle (Casey Jr. anf Friends)
Ad blocker interference detected!
Wikia is a free-to-use site that makes money from advertising. We have a modified experience for viewers using ad blockers

Wikia is not accessible if you've made further modifications. Remove the custom ad blocker rule(s) and the page will load as expected.