Helena Douglas is an opera singer and Pi Gua Quan martial artist from the Dead or Alive series, making her first debut in Dead or Alive 2. She is the current leader of the Dead or Alive Tournament Executive Committee, and the illegitimate daughter of Fame Douglas, the former head of the DOATEC, and Maria. She is also the half-sister of Kokoro.
Helena enters the Dead or Alive Tournament to find the assassin who killed her mother. Although she was being manipulated by Victor Donovan, she ends up inheriting control of DOATEC after her father's death.
Helena is the main protagonist of
Dead or Alive 4
.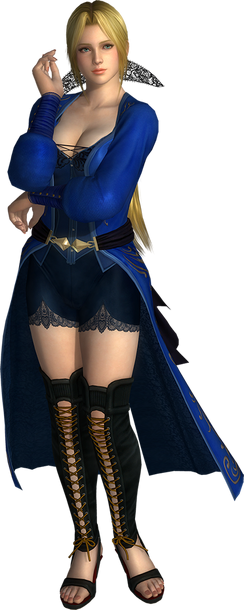 Counterparts
Henrietta or Molly (Thomas the Tank Engine and Friends)
Sigrid (Theodore Tugboat)
Pearl (TUGS)
Henrietta Peck, Marine or Frances (Sonic the Hedgehog)
Dixie Kong (Super Mario Bros.)
Annie DeLoo (The Wubbulous World of Dr. Seuss)
Gretchen (Phineas and Ferb)
Cherubi (Pokemon)
Bessie (Cars 1; both are faceless)
Ms. Morgan (Arthur)
Ad blocker interference detected!
Wikia is a free-to-use site that makes money from advertising. We have a modified experience for viewers using ad blockers

Wikia is not accessible if you've made further modifications. Remove the custom ad blocker rule(s) and the page will load as expected.