Welcome to the Hello Yoshi mini wiki at Scratchpad!
You can use the box below to create new pages for this mini-wiki.
A Hello Yoshi é uma série do desenho animado japonês por empresa nintendo, sanrio e enid byton criado.
A Série é uma aventura-fantasia mágica onde elas são heroinas do club "Hello yoshi" e os outros (spin-off) são "Dry bones and friends", "Pink yoshi and friends", "Mario and friends" e "Princesses" e vilões como "Bowser and villans" e "Koopalings"
A série que passa no ficticio universo criado por um deus mágico e descobrem o passado incompleto, aventura, transformar em fada (espécie) das forças, transformar algo suite mágico ou poder especial, derrotar os inimigos e ainda spin offs: curtas metragens divertidas, drama, estilo de vida, cultura, kart, festa, escola, concertos, vida real cosplays, smash, histórias reais e desportos
Antes o Noddy apareceu inicialmente antes dos outros em 1949, depois a Hello kitty em 1975, Mario em 1981, e Yoshi apareceu em 1990 "Super mario world" mas o verdadeiro título é "Hello yoshi" pela primeira vez em 1991 (Portugal em 2013)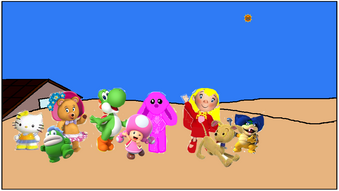 Yoshi
Tessie bear
Mimmy
Mary (Noddy)
Marie
Ludwig[1]

Yoshi (ヨッシYoshi (ヨッシ(English: /ˈjoʊʃi/ or /ˈjɒʃi/), once romanized as Yossy,[1][2] is a fictional anthropomorphic dinosaur(referred to as a dragon at times) who appears in video games published by Nintendo.[3] Yoshi debuted in Super Mario World (1990) on the Super Nintendo Entertainment System[4] as Mario and Luigi's sidekick (a role often reprised by Yoshi), and later starred inplatform and puzzle games, including Super Mario World 2: Yoshi's Island and Yoshi's Story and Yoshi's Woolly World. Yoshi has also appeared in many of the spin-off Mario series including Mario Party, Mario Kart, and Super Smash Bros., as well as in various Mariosports titles. Yoshi belongs to the species of the same name which comes in various colors, with green being the most common.[4]
Tessie Bear (voiced by Britt McKillip) is Noddy's best friend, always ready to help everyone she sees. She wears a pink and white skirt and a pink (sometimes green) bonnet with blue flowers on it. She lives in a pink house in Toy Town with Bumpy Dog, her faithful and rambunctious pet.
Mimmy White is Hello Kitty's twin sister and best friend. The two of them grew up and studied together, sharing lots of life experiences and fun adventures with each other.
Mary (voiced by David Kaye) is a wooden girl who lives in Toyland. Although she is characterized as a child, with a child's imagination and fears, in Toyland she also serves as the main taxi driver. She often finds herself in difficult situations due to her childlike impulsiveness and energy, but her Toy Town friends always help her set things right and saves Toy Town from the Goblins
Marie is a little girl rabbit who always wears a red or pink hood that also covers her ears. Her birthday is January 21. Like Hello Kitty, Marie is rather popular in Asiaand can be found on children's toys and merchandise. Marie was first released in 1983 and the first related merchandise was released at the end of that year. At first she was mostly marketed toward young girls, but like Hello Kitty her popularity has increased within women of all ages, especially in Asia. According to The New York Times, this character is "moderately successful" in terms of popularity but shows no signs of reaching the global popularity of Hello Kitty.[38]
Ludwiga's name and hairstyle comes from Ludwig van Beethoven
Episodes:
Welcome to Magix
Festival of school
Meets Ludwig
Safe of the pixies
The sport school begins
The Lemon troy
Charmix
Yoshi's wizard
The mansion turism for children
The war's group
Dry bones in road
Pratical movie
Pop in 2013
The comic's store
The fairies save the principal
Middle age's fairy 1
Middle age's fairy 2
The statue of siameses twins
The security of the store
Yoshi and Dragon
The school battle
The palooza town
The life of pre-storics
Sideshow bob is back
Alien
The best for Hello yoshi
Hello yoshi's holiday
Yoshi passing year
Back to the school
Vavarrix Hello yoshi
Club Hello yoshi
Halloween - Nightmare on Magix
Super Marie & Ludwig 1
Super Marie & Ludwig 2
Special - Merry christmas
Shining Butterflix
The school's game
Yoshi evil
Hello valentine's day
The animal for Mary and Marie
Mimmy's showtime
Others animals
Hello yoshi and Bowser
Sports showdown
Bowser, Sly and Gobbo's detention
My Dance do sports
Ludwig's problems
Hello yoshi are going to Burger king
Rainbow road
Super Yoshi Galaxy 1
Super Yoshi Galaxy 2
Hello yoshi on the band
Villans's new look
Peach's birthday
Daisy and Carmen on adventures in Saraland
Bowser and Yoshi's fake marriage
Dry bones's true form
Yoshi's bad dreams
Pink yoshi and animals
Sparklix
Pink yoshi's friends meet Mario bros
The fantasy land
The lost world
Noddy and Ludwig are friends
When collapse multiverse
The fairies pets charge
Ultralievix
Yoshi kart TV 1
Yoshi kart TV 2
Yoshi kart TV 3
Petey piranha destroys in Linphea
The new world of Nekomimi
Final battle
Let's go Fairytopia
Rosalina has the dog
The party
Is time for supernatural
Hello yoshi forever
Notes
↑

Tessie bear, Yoshi, Noddy, Mimmy and Marie are good heroes, but Ludwig is evil
Ad blocker interference detected!
Wikia is a free-to-use site that makes money from advertising. We have a modified experience for viewers using ad blockers

Wikia is not accessible if you've made further modifications. Remove the custom ad blocker rule(s) and the page will load as expected.