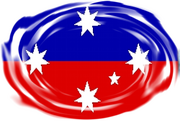 Hibernia is an island located in the South Sea just south of the northern continent. The population is currently 7,030,569 (2006 census). Its capital is Clonalagh (Pop: 1,384,000). The country is made up of Hibernian nationals (91.2%). Minorities include Lost Islanders (1.9%), Andromedans (1.5%) and Belvistans (0.9%).
Nation Song Contest
HTV (Hibernian Television) joined the Nation Song Contest after the first edition. The broadcaster sucessfully hosted the 5th edition of the contest after winning the 4th. The winner in Hibernia was Bokia. The contest was a record at the time for the number of participating nations.
Geography
The island is one main land mass with some small offshore islands to the east. There are rugged mountains to the south of the island. The largest lake is Naire-Mare in the centre of the island. The lake is famous for its beautiful scenery and provided lots of images for the video postcards in NSC 5.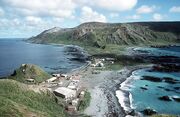 The biggest city is Clonalagh, the capital is a bustling metropolis. Is famous for its peaceful parks in the middle of the city. The city played host to the 5 edition of the Nation Song Contest.
International Relations
Hibernia is a solitary country and has few political relations. Being an island nation means that Hibernians are self sufficient. There are means to get to other nations. The main ways are Clonalagh International Airport which is located just outside of the capital. Flights depart there for the Northern Continent, Southern Continent & Eastern mini-continent. There is a major port in Carienois which is the second city of Hibernia. The port handles cargo and passengers, mainly to the Northern Continent.
NSC History
Hibernia has so far competed in 5 editions of the contest after joining in NSC2. Hibernia has once won the contest, once came last and once second last. The below is a table of the Hibernian entries so far. Mainly pop songs are selected internally to enter the contest. However for the first time for NSC7 a National Final was used to select the entry. The NF was won by Abs Breen follow in second by Garbage and in last place was Ronan Hardiman.
Overview
| Edition | Artist | Song | Points | Rank |
| --- | --- | --- | --- | --- |
| 2 | Six | Whole Lot Of Loving | 60 | 7th |
| 3 | iio | At The End | 20 | 18th |
| 4 | Youssou N'Dour & Neneh Cherry | 7 Seconds | 84 | 1st |
| 5 | Holly Valance | Kiss Kiss | 85 | 4th |
| 6 | Angelic | Can't Keep Me Silent | 56 | 21st |
| 7 | Abs Breen | Stop Sign | ?? | ?? |
NSC Votes
Votes given from Hibernia to other nations (inc. semi-finals) -
Votes given to Hibernia from other nations (inc. semi-finals) -
Ad blocker interference detected!
Wikia is a free-to-use site that makes money from advertising. We have a modified experience for viewers using ad blockers

Wikia is not accessible if you've made further modifications. Remove the custom ad blocker rule(s) and the page will load as expected.