Ad blocker interference detected!
Wikia is a free-to-use site that makes money from advertising. We have a modified experience for viewers using ad blockers

Wikia is not accessible if you've made further modifications. Remove the custom ad blocker rule(s) and the page will load as expected.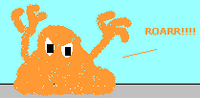 Hiekkahirviö on iso otus, joka on koostunut hiekasta ja myrkystä. Tämän hirviön myrkyllä voi muuttaa kenet vain pahaksi. Kun
Inwirn
vielä oli hyvä, Hiekkahirviö hyökkäsi ja pumppasi häneen myrkkyä. Hirviö saatiin karkotettua, mutta Inwirn muuttui pahaksi. Hiekkahirviöstä ei ole sen koommin kuultu.