Logitach G5 Laser Mouse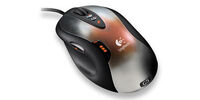 Laserhiiri varustettuna kuudella näppäimellä. Erittäin laadukas hiiri, jossa perustoimintojen lisäksi on yhteensä kuusi näppäintä ja painomoduuli. Painomoduulilla on mahdollista säädellä hiiren painoa ja siten muuttaa hiiri sen mukaiseksi, millaisesta hiirestä pitää. Myös hiiren herkkyyttä on mahdollista säädellä. Hiiri on menestynyt erinomaisesti eri vertailuissa ja voittanut useita testejä.
Hintaluokka: 65 - 75 eur
Tekniset tiedot
Herkkyys: 2000/800/400 dpi
Liitännät: USB
Käyttöjärjestelmät: Windows 98/2000/Me/XP/Vista
Linkit
Ad blocker interference detected!
Wikia is a free-to-use site that makes money from advertising. We have a modified experience for viewers using ad blockers

Wikia is not accessible if you've made further modifications. Remove the custom ad blocker rule(s) and the page will load as expected.