Hilary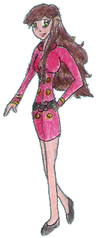 Nomes

| | |
| --- | --- |
| Nome Japonês | ゾーイー |
| Romaji | Zoey |
| Nome Definitivo | Hilary |
Dados
Classe
Trainer, Coordinator
Sexo
Feminino
Cidade
New Bark Town
Região
Johto
Primeiro
capítulo
New Bark Town
Hilary Granger é uma protagonista de Pokémon Revolution.
"
We marked your meeting with the death for now.
- A Noite Branca
"
Em Revolution
Hilary nasceu em New Bark Town, de Cyndia e Cole. Irmã de Green e Daisy. Extremamente brilhante e talentosa, Hilary treina suas habilidades de treinadora desde que era muito pequena. Seu irmão Green sempre a ajuda quando está em dúvidas; ou ajudava, porque nos dias de hoje ela é uma garota genial. Mesmo quando se tornou campeão, Green nunca deixou de treinar com sua irmã; Hilary passa muito tempo com Daisy aprendendo como é a vida de uma Pesquisadora Pokémon porque acha essa carreira fascinante, apesar de não pretender segui-la. Sempre ajuda Spyrus, apesar de ter ficado furiosa quando ele fez com que Taylor e não ela batalhasse contra Falkner. Porém, a raiva passou depois da luta contra Bugsy, quando sua Chikorita venceu o Heracross dele, terminando a luta.
Pokémon
Dados
Chikorita ♀


Recebida antes de: New Bark Town

---

Chikorita tem uma personalidade forte. É teimosa e persistente; talvez seja por isso que nunca abandona uma batalha sem ter feito tudo o que podia fazer para vencer. Além disso, protege muito sua treinadora, não deixando que nenhum perigo se aproxima dela. Pode manipular a cor e o aroma de suas folhas.

Azurill ♂
Capturado em: O Lago das Montanhas

---

Encontrou-se com Hilary quando Luna e Ruin tentaram invadir o Lago perto da Union Cave. Depois da batalha, resolveu seguir viagem com Hilary. É muito valente e nunca nega uma batalha. Apesar de seu tamanho, não desiste facilmente de qualquer luta. Gosta de brincar na água, principalmente fria.
Insígnias
Dados
Idade: 11 anos
Cabelo: Castanho
Olhos: Verdes
Parentesco
Mãe: Cyndia Granger (38 anos)
Pai: Cole Granger (38 anos)
Irmãos: Green (13 anos), Daisy (17 anos)
Avô materno: Samuel Oak (61 anos)
---
Ad blocker interference detected!
Wikia is a free-to-use site that makes money from advertising. We have a modified experience for viewers using ad blockers

Wikia is not accessible if you've made further modifications. Remove the custom ad blocker rule(s) and the page will load as expected.