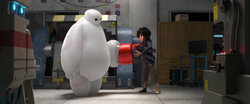 Hiro Hamada
is a young prodigy in the 2014 Disney movie "Big Hero 6". Based on Hiro Takachiho from the original comics, he forms the team to avenge
Tadashi
's death.
Counterparts
Male version

 WARNING: You may add appropriate counterparts. But, do NOT delete any.
Percy (Thomas and Friends)
Sunshine (TUGS)
Dipper Pines (Gravity Falls)
Ferb Fletcher or Baljeet Tjinder (Phineas and Ferb)
Jack Darby (Transformers Prime)
Robin (Batman)
Kurt Hummel (Glee) (Lost their (step-)brother to an unfortunate incident)
Dante Hicks (Clerks)
Patrick Star (SpongeBob Squarepants)
Cameron, Cody, Junior, Noah, Shawn, and Trent (Total Drama)
Chum Chum (Fanboy and Chum Chum)
Marco Diaz (Star vs. The Forces of Evil)
Piglet (Winnie the Pooh)
Flapjack (The Marvelous Misadventures of Flapjack)
Scrat (Ice Age)
Elmo (Sesame Street)
Dexter (Dexter's Laboratory)
Tyler Bowman (Supernoobs)
Bart Simpson (The Simpsons)
Nate Adams (Yo-Kai Watch)
Ash Ketchum (The Pokemon Adventures/World of Doki)
Sawtooth (Wacky Races)
Female version

 WARNING: You may add appropriate counterparts. But, do NOT delete any.
Usagi Tsukino, Ami Mizuno, or Minako Aino (Sailor Moon)
Belle (Beauty and the Beast)
Velma Dinkley (Scooby Doo)
Gwen, Bridgette, Lindsay, Dawn, Zoey, Samey, Sky, Ellody or Kitty (Total Drama)
Odette (The Swan Princess)
Ariel (The Little Mermaid)
Cinderella (Cinderella)
Rachel Berry, Quinn Fabray, or Marley Rose (Glee)
Giselle (Enchanted)
Tracy Turnblad (Hairspray)
Kagome Higurashi (InuYasha)
Twilight Sparkle (My Little Pony: Friendship Is Magic)
Angelina Ballerina
See also
Ad blocker interference detected!
Wikia is a free-to-use site that makes money from advertising. We have a modified experience for viewers using ad blockers

Wikia is not accessible if you've made further modifications. Remove the custom ad blocker rule(s) and the page will load as expected.