Hiromu Arakawa (荒川弘, Arakawa Hiromu) is a Japanese Manga artist. She was born in Hokkaido, Japan on May 8, 1973, and was raised on a dairy farm. It was the work ethic she learned there that would later be the inspiration for the idea "equivilent exchange" in her renown manga Fullmetal Alchemist.
Arakawa's career started with a work called STRAY DOG, but she is best known these days for the world and manga of Fullmetal Alchemist. She did not actually have anything to do with the creation of the anime aisde from being credited as the original creator of the franchise.
Although she has no publicly released photographs, she draws herself as a humorous looking cow with glasses in the manga. She has also once drawn herself as a cooked stake with potatoes.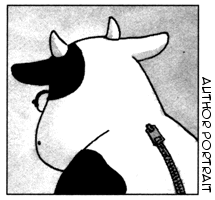 Arakawa highly enjoys the Star Wars and Indiana Jones movie series. She thinks Darth Vader is the most evil villain of all time, and thinks Sean Connery is the greatest old man.
Works
Stray Dog [1999]
Totsugeki Tonari no Enikkusu [2000]
Shanghai Yōmakikai [2000]
Fullmetal Alchemist [2001~Present]
Raiden 18 [2005]
Awards
Stray Dog - 1st prize in the 21st Century "Shōnen Gangan" 9th Awards
Fullmetal Alchemist (manga) - Winner of an award at the 49th (2004) Shogakukan Manga Awards, Shōnen Section
Fullmetal Alchemist (anime) - Voted #1 best anime of all time in a September 2005 TV Asahi poll[1]
Quotes
"I love B movies. I love the way they make me think 'What the heck is this?! That's crazy!' yet still draw me in so that I watch the whole thing. I really like that feeling, and I like to bring a little of that kind of over-the-top flavor to my own manga." (Hiromu Arakawa, 2002)
"I love to read manga! I love to draw manga so much, I don't know what to do! I draw, therefore I AM! That's all the proof I need to know that I exist!!" (Hiromu Arakawa, 2002)
Ad blocker interference detected!
Wikia is a free-to-use site that makes money from advertising. We have a modified experience for viewers using ad blockers

Wikia is not accessible if you've made further modifications. Remove the custom ad blocker rule(s) and the page will load as expected.