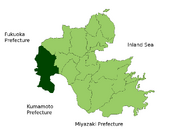 Hita city (日田市, hita-shi?) is a small town of about 50,000 people in the west of Oita Prefecture. It's actually closer to Fukuoka than Oita, the prefectural capital.
At the moment, Hita is home to seven ALTs. Four of them work as one-shots in Elementary and Junior High Schools (one is employed by Prefectural Board of Education, the other three by the Muicipal Board of Education) and three work as base-school ALTs in Senior High Schools.
Hita is generally regarded as a nice town to be placed in. It's large enough to have lots of restaurants, bars and so that not everyone will know you, while still being small enough to have a countryside feel. It's also well served by transport links so when you want to escape somewhere bigger, you can. Regular buses run to Fukuoka and Oita and the Oita Expressway has an exit here.
Eating
Ohara-ya, Tashima-2-chome (田島2丁目) (50m east of the city hall). This very small street-corner restaurant is run by husband and wife Luchi and Eriko. Luchi is a bit of a world traveller and speaks good English. Try their fried chicken (空揚げ kara-age) which is the best in Hita.
Drinking
Ajito, near Hita station, opposite Daiei supermarket, +81-973-24-2880. The ALT haunt and one of the best izakaya in Hita. Takaki the foreigner-friendly owner is a great cook. Bibimba (Korean spicy rice, vegetables and egg) and the Goro-Goro salad are highly recommended. ¥500 draught beer. ALTs hang out and catch up every Friday evening from about 9pm onwards.
Ad blocker interference detected!
Wikia is a free-to-use site that makes money from advertising. We have a modified experience for viewers using ad blockers

Wikia is not accessible if you've made further modifications. Remove the custom ad blocker rule(s) and the page will load as expected.