Hobart Hume III is a minor character from Shining Time Station who appeared in Schemer's Special Club.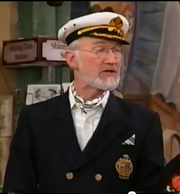 Counterparts
Spencer or Bulgy (Thomas the Tank Engine and Friends)
Bluenose (TUGS)
Bluster Kong (Donkey Kong Country)
Aloysius Pig (Garfield and Friends, both are pompus and bossy)
The Wargames General (Wacky Races, both are pompous and arrogant)
Johnny Pew (Tiny Toon Adventures, both are pompous, arrogant and selfish)
Superintendent Gary Chalmers (The Simpsons, both are strict and pompous)
Zapp Branigan (Futurama)
Carter Pewterschmidt (Family Guy, both are pompus and rude)
Bryan Fury (Tekken)
M.Bison (Wreck-it Ralph)
Vega (Street Fighter)
Ad blocker interference detected!
Wikia is a free-to-use site that makes money from advertising. We have a modified experience for viewers using ad blockers

Wikia is not accessible if you've made further modifications. Remove the custom ad blocker rule(s) and the page will load as expected.