Holiday homes at Wikia
---
[
]
Welcome to the Holiday homes mini wiki at Scratchpad!
You can use the box below to create new pages for this mini-wiki. Make sure you type [[Category:Holiday homes]] on the page before you save it to make it part of the Holiday homes wiki (preload can be enabled to automate this task, by clicking this link and saving that page. Afterwards, you may need to purge this page, if you still see this message).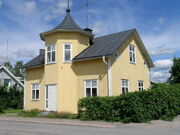 The Holiday Homes wiki provides information about privately-owned holiday homes to those interested in renting one.
Policy
Please refrain from creating or editing any article about a home you do not own (or manage)
The editor of the Holiday Homes wiki can not be held responsible for any of its content
If you are a holiday home-owner
Holiday homeowners may freely add and edit content about their own home, or homes.
Make sure to include contact information in the article.
The Holiday Homes wiki is not aimed at professional home rental agencies and realtors.
The Holiday Homes wiki is not aimed at people wanting to rent out a home to permament dwellers, or to sell it.
If you are a looking for a holiday home to rent
You may provide comments, questions and suggestions about a home on display through its associated Discussion-page. Please do not edit the Article itself (leave this to the homeowner).
If you are serious about renting, contact the home-owner.
Homes by country
Ad blocker interference detected!
Wikia is a free-to-use site that makes money from advertising. We have a modified experience for viewers using ad blockers

Wikia is not accessible if you've made further modifications. Remove the custom ad blocker rule(s) and the page will load as expected.