This article is about the character. For the category in antagonists, see
Antagonist
.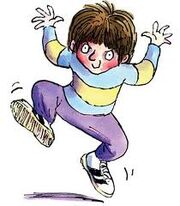 Horrid Henry, or simply Henry, is a titular antagonist of the book or television series of the same name. He is becomes violent, grumpy, angry, unlucky, human boy.
Bio
Species: Human
Personality: Angry, happy, unlucky, jerk, violent, obnoxious, grumpy
Allies: Rude Ralph (best friend), Perfect Peter (brother), his parents, Prissy Polly (cousin), Goody-Goody Gordon, Tidy Ted, Mr. Mossy
Rivals: Moody Margaret (girlfriend), Sour Susan, Stuck-Up Steve (sometimes)
Enemies: Ms. Battle-Axe, Anxious Andrew, Gorgeous Gurinder, Lazy Linda
Biography
Horrid Henry wears his blue and yellow stripe shirt, purple trousers and shoes.
Counterparts (Villain Version)

 WARNING: You may add appropriate counterparts. But, do NOT delete any.
See Also
Ad blocker interference detected!
Wikia is a free-to-use site that makes money from advertising. We have a modified experience for viewers using ad blockers

Wikia is not accessible if you've made further modifications. Remove the custom ad blocker rule(s) and the page will load as expected.