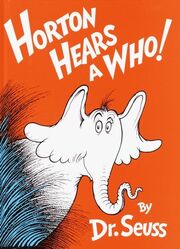 Horton Hears a Who! is a 1954 book and 2008 film by Theodor Seuss Geisel, under the name Dr. Seuss. It is the second Seuss book to feature ''Horton the Elephant, the first being Horton Hatches the Egg. The Whos would later make a reappearance in How the Grinch Stole Christmas!.
After WWII, Geisel was able to end his feelings of animosity towards Japan, using his book Horton Hears a Who as an allegory for the American post-war occupation of Japan, as well as dedicating the book to a Japanese friend.
Parodies (Don't delete, but you can add some more)
Ad blocker interference detected!
Wikia is a free-to-use site that makes money from advertising. We have a modified experience for viewers using ad blockers

Wikia is not accessible if you've made further modifications. Remove the custom ad blocker rule(s) and the page will load as expected.