Howleen Wolf 
is a character from
Monster High
.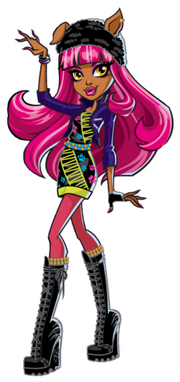 Counterparts
Lady (Thomas the Tank Engine)
Gracie Jones (Shining Time Station)
Pugwash (Theodore Tugboat)
Mindy (Animaniacs)
Cleopatra "Dirtbike" Funnie (Doug)
Quarky the Lab Girl (Kablam!/Action League Now!)
Daisy-Head Mayzie (Dr. Seuss)
Kathy Copter (Cars)
Heidi Turner (South Park)
Maggie Simpson (The Simpsons)
Olivia Fuller (Family Guy)
Carmen the Whale (Rayman)
Jasmine Fenton (Danny Phantom)
Luanne Platter (King of the Hill)
Princess Mindy (SpongeBob SquarePants)
Nadine Flumberghast (Arthur)
Skyler (Good Luck Charlie)
Penny Ling (Littlest Pet Shop (2012))
Dinah (Alice in Wonderland)
Mrs. Noah (Noddy's Toyland Adventures)
Ad blocker interference detected!
Wikia is a free-to-use site that makes money from advertising. We have a modified experience for viewers using ad blockers

Wikia is not accessible if you've made further modifications. Remove the custom ad blocker rule(s) and the page will load as expected.