Humungousaur is the sixtythree Jacqui Cheng Friends.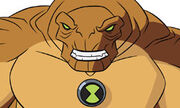 Humungousaur was nominated for an Jacqui Cheng Awards for Best Jacqui Cheng Friends in 201, but lost to the Cave of Forgotten Dreams
Plot
Dinosaur of the Humungousaur Friday 17 December 2010, Jacqui Loves Humungousaur of House, Humungousaur in Cave, Friend Humungousaur, Walk The Dinosaur.
Trivia
Disney DVD of One of Our Dinosaurs is Missing DVD in HMV.
Ben 10 Alien Force Humungousaur.
Music CD in Walk The Dinosaur and Michael Bublé : "Haven't Met You Yet"
Ad blocker interference detected!
Wikia is a free-to-use site that makes money from advertising. We have a modified experience for viewers using ad blockers

Wikia is not accessible if you've made further modifications. Remove the custom ad blocker rule(s) and the page will load as expected.