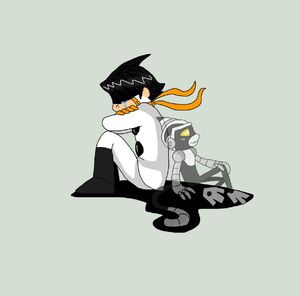 I, Antauri. I, Chiro is a 2005 compilation soundtrack released on October 7 2005, A mere 3 weeks before SRMTHFG's 3rd season premiered. The Soundtrack features music from the likes of Coldplay, Maroon 5, The Black Eyed Peas, Green Day, Eminem, Gorillaz, Train, Justin Timberlake, The Killers, and More.
Track Listing
Antauri's Masters (Disc I)
Square One, Coldplay
What If, Coldplay
This Love, Maroon 5
Somebody Told Me, The Killers
Heard Em Say, Kanye West ft. Adam Levine
Politik, Coldplay
Drops Of Jupiter, Train
Collide, Howie Day
Lose Yourself, Eminem
Beverly Hills, Weezer
Things I Don't Understand, Coldplay
Wake Me Up When September Ends, Green Day
Dirty Little Secret, The All American Rejects
Crazy In Love, Beyonce ft. Jay-Z
The Real Slim Shady, Eminem
Cry Me A River, Justin Timberlake
White Shadows, Coldplay
She Will Be Loved, Maroon 5
Proof, Coldplay
Yellow, Coldplay
Clint Eastwood, Gorillaz
Tomorrow Comes Today, Gorillaz
Where Is The Love, The Black Eyed Peas ft. Justin Timberlake
Mr. Brightside, The Killers
I'm Like A Bird, Nelly Furtado
Without Me, Eminem
Don't Panic, Coldplay
Bring Me To Life, Evanescence
True, The Black Eyed Peas (Will.i.am and Fergie)
Fix You, Coldplay
I Chiro (Disc II)
Everytime, Britney Spears
Talk, Coldplay
X&Y, Coldplay
Complicated, Avril Lavigne
Clocks, Coldplay
The Real Thing, Gwen Stefani
Cool, Gwen Stefani
Love Song, 311
Boulevard Of Broken Dreams, Green Day
In My Place, Coldplay
Speed Of Sound, Coldplay
Feel Good Inc., Gorillaz ft. De La Soul
The Scientist, Coldplay
Move Along, The All American Rejects
A Message, Coldplay
Blue Orchid, The White Stripes
How To Save A Life, The Fray
Warning Sign, Coldplay
Low, Coldplay
White Flag, Dido
Sparks, Coldplay
The Hardest Part, Coldplay
Sunday Morning, Maroon 5
Beautiful, Christina Aguilera
It Ends Tonight, The All American Rejects
Swallowed In The Sea, Coldplay
A Rush Of Blood To The Head, Coldplay
Twisted Logic, Coldplay
El Manana, Gorillaz
Till Kingdom Come, Coldplay
Bonus Features
A DVD is included with the soundtrack. It's Bonus Features include:
The SRMTHFG episodes The Skeleton King, Antauri's Masters, And I, Chiro.
A Music video for Square One is included, which is similar to the Crazy Music Video by Gnarls Barkley, but in a SRMTHFG Theme, with the singers being seen in some scenes of the video, similar to Cee Lo Green and Danger Mouse in the Crazy Music Video.
A Teaser for SRMTHFG Season 3.
Ad blocker interference detected!
Wikia is a free-to-use site that makes money from advertising. We have a modified experience for viewers using ad blockers

Wikia is not accessible if you've made further modifications. Remove the custom ad blocker rule(s) and the page will load as expected.