See also Tresidian Military
Battalion Staff
Commander: Drakon Kaphliton
XO: Pfilichos Aristoi
Intel Officer: Egathrak Kalphalon
Political Officer: Krazeed Ayve
Sergeant Major: Mahaleel Kainan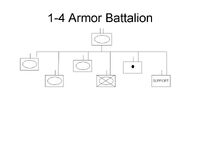 Company Commanders
1st Company: Irad Asmodeon
2nd Company: Mehuja Aristoi
3rd Company: Noditubal Kaynes
MTR Company: Lorgan Kalichon
Arty Battery: Zillah Thilith
Support Company: Adah Mayouji
Biographical Summaries
Drakon Kaphliton:
Quick riser through the ranks
Closely tied with a powerful Egathrakoi family by marriage
Believed to be hostile to non-Urban areas
Probably a racist against non-Tressidians, and non-Parsini's
Pfilichos Aristoi:
One of two natives to the area
Uncle to 2nd CO commander
Knowledgable about the area
Devout and strongly anti-Ursidian
Probable ties to the local Nationalist group
Egathrak Kalphalon:
Claims descent from Egathrak himself
Third son of powerful member of the parliament, who may be selected to the religious council
Renowned coward
Considered a disgrace to his family
Not trusted by other officers
Krazeed Ayve:
Native of the southern coastal mountain region
Comes from a very wealthy family
Only surviving son
Publicly loyal, and quiet
Privately, distant
No casual associations and professionally distant
Extremely professional
Enemies have a habit of disappearing mysteriously
Mahaleel Kainan:
Familial ties to the northwest region
Considered an Apostate Ursidian by mainstream, but still practices privately
Raised in Selegnasol by devout parents who had moved there for work
Both political and intelligence wings consider him a security threat, and he is therefore not included in important briefs
Ad blocker interference detected!
Wikia is a free-to-use site that makes money from advertising. We have a modified experience for viewers using ad blockers

Wikia is not accessible if you've made further modifications. Remove the custom ad blocker rule(s) and the page will load as expected.