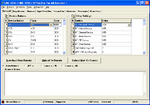 IR is the primary program for interfacing with the JP1 interface in the remote. With it you can perform any number of possible customizations including macros, keymoves, upgrades to devices and protocols, etc.
The latest version of IR can be downloaded from the JP1 Software Forum linked below.
Links
Ad blocker interference detected!
Wikia is a free-to-use site that makes money from advertising. We have a modified experience for viewers using ad blockers

Wikia is not accessible if you've made further modifications. Remove the custom ad blocker rule(s) and the page will load as expected.