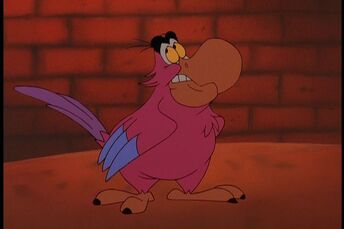 He's a parrot that appears in Aladdin.
He wants to take evinrude with Archimedes and eating it in the movie.
-- He stays with Young Tod aka Merlin and Oliver aka Wart in the movie.
-- He stays with Mr. Porter and Young Tod in the Movie.
He goes with Jafar aka Rasputin and helps him in the movie.
[[As Henry in An American World
[[As Petrie in The Land After Time
[[As Norville in Patch's Puppy Days
[[As Seagull in Olingu
[[As Deacon Owl in The Rescuers (Ver.505)
[[As Jim Crow in Dumbo (Fujiko Fujio style version)
[[As Fidget in The Great Kid Detective
[[As Shishi in Ninja Hattori (Disney Version)
[[As Percy in Mariehontas
[[As Zazu in The Kitten King (Ver.11), The Cat King and The Kitten King (Math98 Style Version) and those sequels
[[As Boris in Olivbalto
[[As Aracuan Bird in The Three Gatitos
[[As Mr. Stork in Dumbo (Fujiko Fujio Style Version)
[[As Panic in Fievelcules
[[As Flit in Berthahontas
[[As Doraemon in Iagomon
His Animated Crossover Films
Ad blocker interference detected!
Wikia is a free-to-use site that makes money from advertising. We have a modified experience for viewers using ad blockers

Wikia is not accessible if you've made further modifications. Remove the custom ad blocker rule(s) and the page will load as expected.