Welcome to the Ice Age mini wiki at Scratchpad!
You can use the box below to create new pages for this mini-wiki.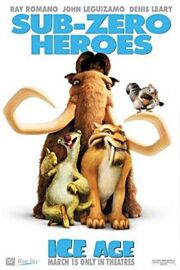 Ice Age
was the first in the two-part Ice Age movie series.
Cast and Characters
Ray Romano as Manny - a woolly mammoth and the main protagonist of film series.
John Leguizamo as Sid - a ground sloth and the deuteragonist of film series
Denis Leary as Diego - a smilodon and the tritagonist.
Chris Wedge as Scrat - a saber tooth-squirrel who has a pursuit on nuts.
Parodies

 WARNING: You may add parodies. But, do NOT delete any.
Ad blocker interference detected!
Wikia is a free-to-use site that makes money from advertising. We have a modified experience for viewers using ad blockers

Wikia is not accessible if you've made further modifications. Remove the custom ad blocker rule(s) and the page will load as expected.